Share: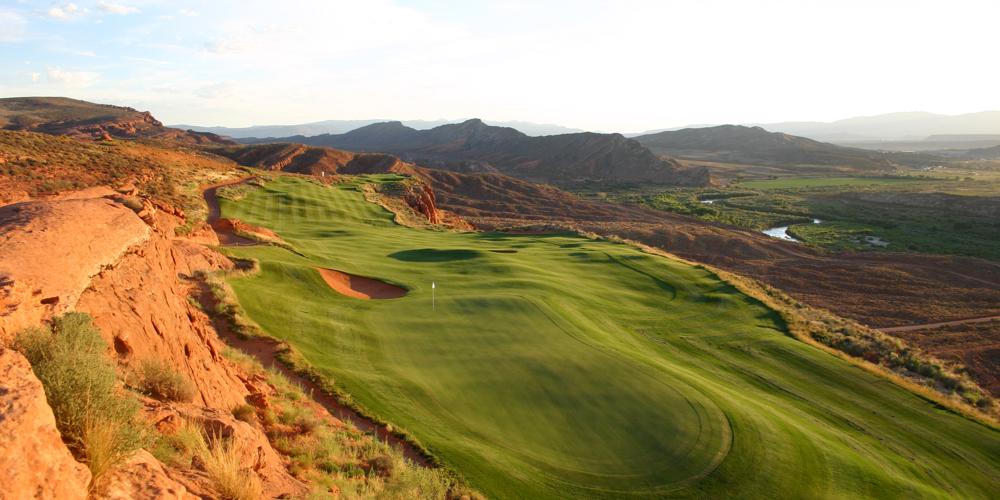 Utah's Sand Hollow is Utah's Sure Hit
The Golf Course at Sand Hollow Resort
By Greg Miles
As a youngster, decades ago, I remember all the families in our neighborhood saving S&H Green Stamps, a promotional incentive offered by certain merchants to entice customers to shop at their stores. Today, I am offering this review of Sand Hollow Golf Resort as an incentive for golfing customers to visit this lush, "green" 27-hole layout in the spectacular southwestern red rock area of Utah; this is a golf facility that has quickly earned a "stamp" of approval.

Groundbreaking for The Golf Course at Sand Hollow Resort was on December 5, 2006, with August 29, 2008, as its grand opening day. The course is located in Hurricane, Utah, on 400 acres in Washington County, and is adjacent to Sand Hollow State Park and 25 minutes from Zion National Park. Downtown St. George, Utah, is 5 miles /15 minutes away.

John Fought, 1977 U.S. Amateur Champion and twice winner of PGA Tour tournaments, is the architect of this 27-hole layout, and has designed a facility with a 'bi-polar' personality. Eighteen holes, the Championship Course, feature the natural canyon terrain of southwestern Utah; the remaining nine holes, the Links Course, present to the golfers the widest fairways and largest greens, in rolling links-style fashion, in the entire state of Utah. Sand Hollow Golf Resort could be thought of as "the British Isles meet native Southwest USA".

With the aforementioned w-i-d-e fairways, the Links Course, sometimes referred to as the Walking Course, is rapidly becoming a favorite portion of the Sand Hollow routing. Architect Fought has added eye-catching features to the openness of the Links Course; a rock wall bends along entire right side of hole #5, which is the shortest route to the green; here, memories of Scotland's St. Andrew's Road Hole (#17) may be invoked. A second rock wall crosses the adjoining fairways of holes #2 & #9; this rock wall may well have be inspired by the shepherd's wall at another one of Scotland's famous courses, North Berwick. The Links Course plays to a par of 36 strokes with two par-3's, five par-4's, and two par-5's; four tees boxes are placed at 2777 / 3103 / 3459 / 3687 yards respectively. Finally, a double-green shared by holes #4 and #7 will add one more taste of 'Old World' flavor for golfers who experience this set of nine holes.

The Championship Course plays to balanced par of 72 (36-36=72), and presents to its golfers the natural splendors and dramatic views common to the canyon country of southwestern Utah. A five-fold variety of tee boxes are placed at 5306 / 6060 / 6462 / 6893 / 7315 yards to please and challenge all skill levels. Awaiting golfers on the Championship Course's back nine is a series of holes that play along the ridge, or edge, of the course's property; panoramic views of the entire St. George / Hurricane area can be seen in between shots.

Among Sand Hollow's amenities are a large, ultra-modern, clubhouse and a 12-acre, full flight driving range with 30 hitting stations; a private lesson area and a putting green complete the practice facility offerings. Designed in a modern, even futuristic style, the southwestern type theme of the spacious clubhouse is certain to please and impress all visitors.

Wrapping up my "S&H" introspections -- Sand Hollow is a sure hit; it has quickly become a super heavyweight among ranked courses in the Southwest (Golf Digest #8 in UT; GolfWeek's #1 Public in UT); be warned not to slice or hook on the ridge holes, or face sure havoc; but, I predict that Sand Hollow will lift your golfing emotions sky high.
Address: 5625 West Clubhouse Drive, Hurricane, UT 84737. Phone: 435-656-4653. Website: www.sandhollowresort.com.

View Course Profile
Revised: 11/28/2012 - Article Viewed 35,125 Times
About: Greg Miles
---

Greg Miles is Senior Writer for GolfChicago! Magazine and resides in Lake County, IL. He has been a golf writer for 21 years, and a member of the Golf Writers Association of America for the past 17 years. A graduate of the University of Notre Dame and Marquette University, he has played more than 5,500 rounds of golf in his life at 462 different courses; enjoys collecting golf memorabilia and is a Golf Nut Society member.
---
More Articles by Greg Miles